What a Difference 20+ Years Makes
Jul 05, 2018
Back in 1996, when I was really young, I painted a little place called The Red Room - a mainstay tavern on 3rd Avenue in Sturgeon Bay, Wisconsin. This painting was always one of my favorites, and is featured in my notecard set.
"The Red Room" - oil on canvas - 21" x 16"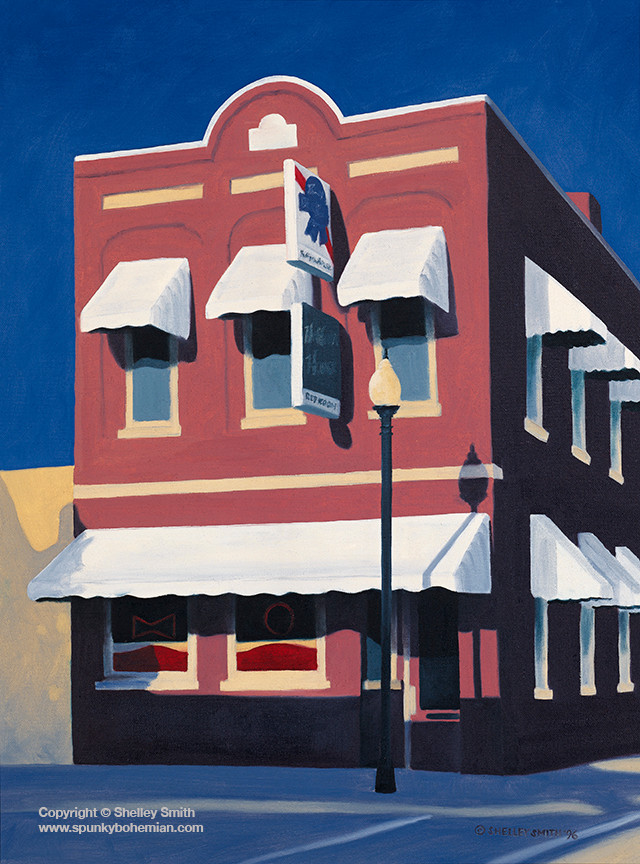 Over the years, I've had such an affection for this building that I always wanted to paint it again. I'm sure The Red Room has shown many a great time - and not so great mornings - and heck, my Dad even delivered beer here!
In the 1940's thru the 60's, my grandpa, Roy Smith, owned and operated Roy C. Smith Inc. - the Schlitz and Blatz distributorships in Door County, Wisconsin. My Dad has all kinds of stories about driving the semi down to Milwaukee to pick up beer, taking the beer truck on the ferry to Washington Island and delivering beer to all the taverns (and their owners) in Door County, including Harley Hoffman at the Red Room! Back then, The Red Room went thru lots and lots of kegs of Blatz.
Now fast forward to 2018. One of my patron couples, now living in California, but with a strong connection to Door County, and having just purchased their first home, decided they'd like to add one of my original paintings to their collection. While they liked some of the paintings currently in my inventory, they were kind of leaning towards a commission for a subject located in Door County to remind them of the good times in Wisconsin, while they were away in California.
So, when I suggested The Red Room - of course, painting it in a different light and slightly different composition and size, not a copy as each is one of a kind - they were thrilled with the idea as they often stop in for lunch when visiting Door County and everything fell into place. So, now that it's safely delivered to its new home, I can share the big secret I've been keeping most of the year, "Afternoon at the Red Room." I'll even place them side by side to provide a better comparison.
"The Red Room" - oil on canvas - 21" x 16" - 1996 (Left) and "Afternoon at the Red Room" - oil on linen - 29.375" x 20.625" - 2018 (Right)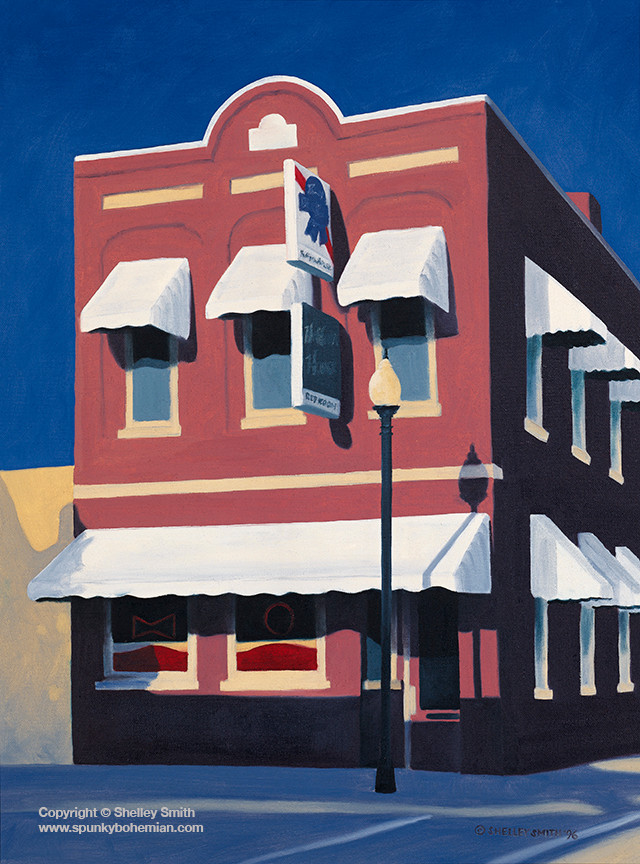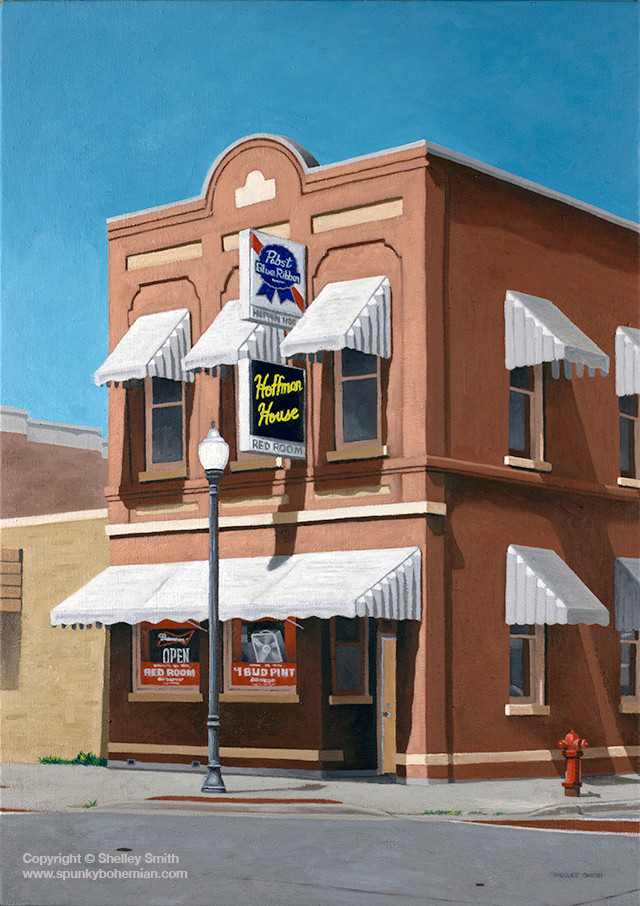 "The Red Room" was painted cast in very late afternoon light, while "Afternoon at the Red Room" has an early afternoon light on a warm July day and is captured at a slightly different angle. I knew my painting style had evolved and even as I was working on the newer version, I didn't think the difference was really that drastic. However, once it was finished and I placed them side-by-side - Bang! It hit me like a ton of bricks, wow, has my style ever evolved. I think they both look like my paintings in style, but yet they look so different. I think they do demonstrate an evolution.
Over the years, as I've painted buildings, I've had many viewers familiar with these places tell me the subjects look better in my paintings than they do in real life (I'll have to do another blog post on this topic and building specifically to give you an example). It just recently occurred to me, while I do enjoy making things look good, in the case of these places, I think a contributing factor is my affection for the buildings, the stories and the history they keep - if only they could talk, I bet they'd keep me captivated.