"Leading Shadows" Leads to New Insights
Aug 28, 2018
As you probably know by now, I'm drawn to my subjects for their irony, isolation, beauty and especially their "story" or the history behind them. I enjoy learning more about my subjects. In fact, I often do research on my own, but interestingly, I often learn about my subjects from the viewers. One painting in particular, "Leading Shadows" has garnered the most input from others and I've proven it out myself. Since the original painting recently sold, and I also just sold a print of it this month - this image seems to be hot right now - so I thought it might be fun to share it's development and some of the stories people I've met have shared with me.
Unfortunately, I neglected to snap a shot before I layered the first wash, so here it is the first shot, with a warm wash - over the drawing you didn't get to see first. : )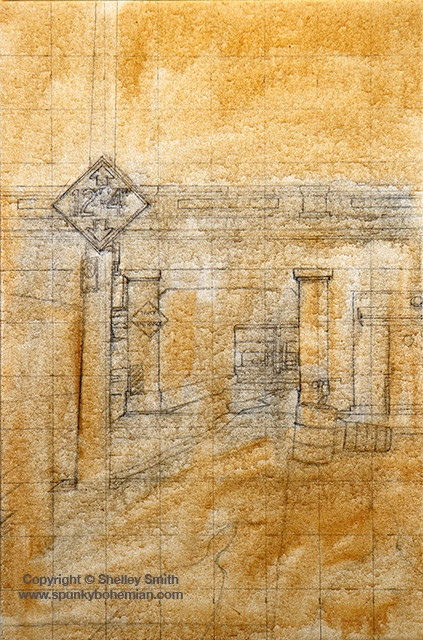 With the second layer, I began adding colors - a light wash, which looks almost like watercolors.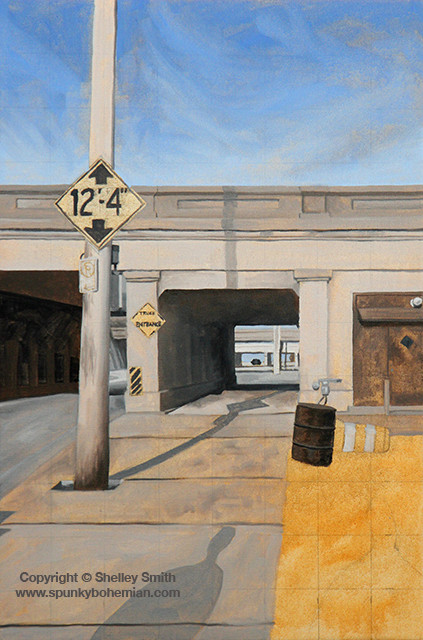 I continued. More days' work, means more layers.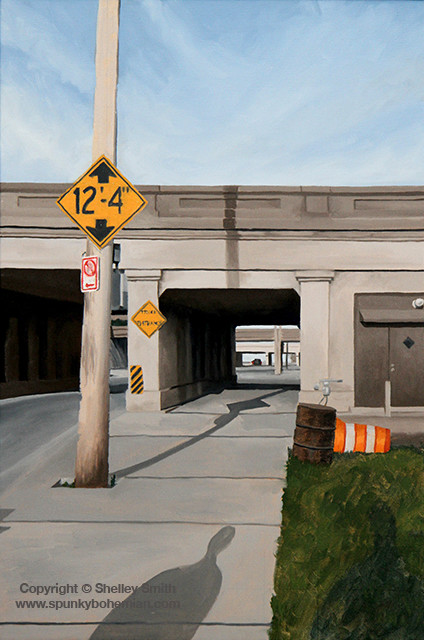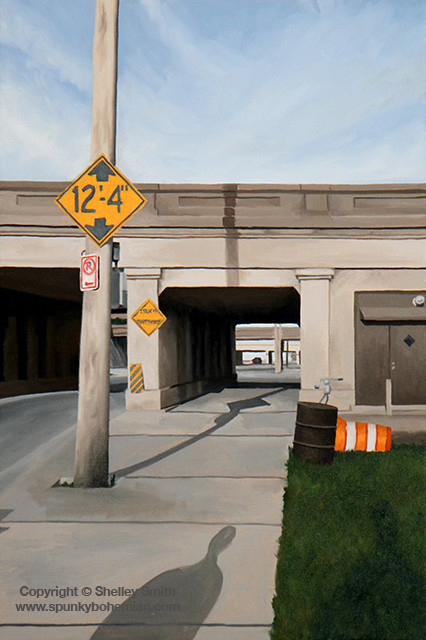 I just couldn't get the yellow/orange signs to my satisfaction. I tried lightening up the print and making them more orange, closer to the color of the barrel, but it still didn't feel or look "right" to me.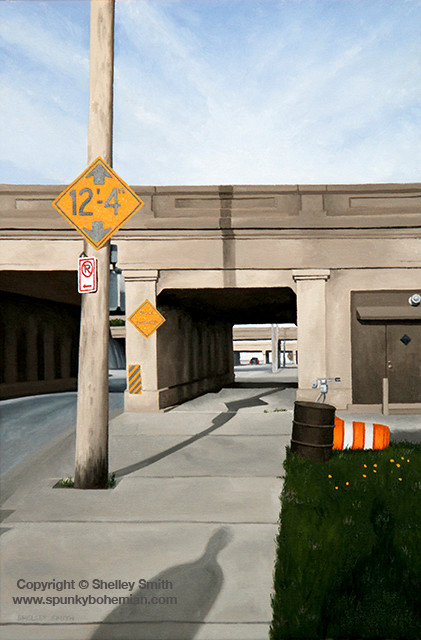 More tweaking of the signage.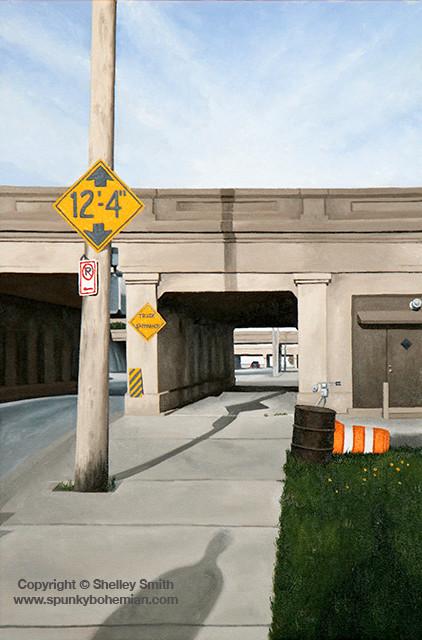 After all the signage tweaking, here's the final version. I finally got it the way I was happy with it!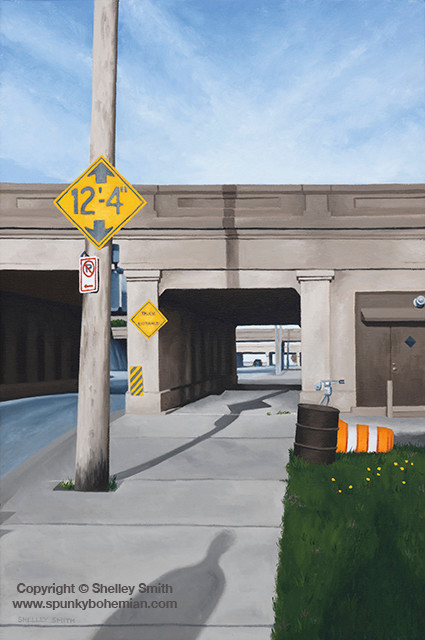 Now, for the most interesting part of this blog - the stories I learned from my visitors, primarily at Lakefront Festival of Art.
A couple different guys mentioned to me that the corner - in the lower right of the painting - the grassy vacant land - was previously home to a gay bar, called Boot Camp, which burned down eight or nine years ago. I investigated further and sure enough, the man was close, the bar burned down in 2011, and was quickly demolished; however, it had been the Boot Camp Saloon for over 30 years.
While this tidbit was certainly interesting, the most interesting information I learned has to do with the train bridges and the nearest overpass itself. See the brown door with the little diamond window? This doorway is the entrance to what used to be a train station. What? I didn't know there was a train station in Walker's Point. I looked into this further and it was known as the Allis Station because most of the passengers coming in and out of this train stop worked for a little business called Allis Company. What began as Reliance Works Foundry became Allis Company - with roots in downtown Milwaukee, and then here in Walker's Point they eventually moved to what would become West Allis. Does a little company called Allis-Chalmers ring a bell with you?
Now, what's currently hidden behind said door is a model railroad layout, and if you catch the model railroaders when they're there you might be able to go inside. Dave and I stopped by one day and nobody was there, but we were able to peek in the windows and there is indeed a train layout! I investigated this further as well and sure enough, the Model Railroad Club of Milwaukee has called this home since 1936!
There's a super interesting urban spelunking article that provides a ton more history on this "hidden in plain sight" historical gem. Thanks to the connections who opened up to me about the history behind my painting. It's pretty interesting, isn't it? Happy urban spelunking.